PolarRES Participation at EGU23
30 May 2023
The European Geosciences Union (EGU) General Assembly 2023, held in Vienna, Austria, provided an excellent platform for researchers, professionals, and enthusiasts to present their work and learn from the latest research and technological advancements in the field of geosciences.
With a wide range of topics covered, including polar and cryospheric sciences, the EGU23 event was a significant opportunity for projects like PolarRES to showcase their work and contribute to the advancement of knowledge in the environmental science field.
PolarRES had a strong presence, dedicating two sessions on central topics where researchers presented their findings, discussed the progress of the project, and engaged in scientific discussions:
CR7.4, focused on atmosphere-ocean-sea ice interactions in the polar climate system: this session aimed to close knowledge gaps on these interactions and showcase recent advances in our understanding of the physical, chemical, and biogeochemical processes involved. It welcomed observational and numerical modeling studies of the Arctic and Antarctic coupled climate system, including cloud microphysics, aerosol-cloud interactions, atmospheric boundary layer dynamics, sea ice dynamics and thermodynamics, upper ocean mixing processes, sea ice biogeochemistry, and snow on sea ice. Presentations on new and emerging tools, observational campaigns, or remote sensing datasets were also encouraged.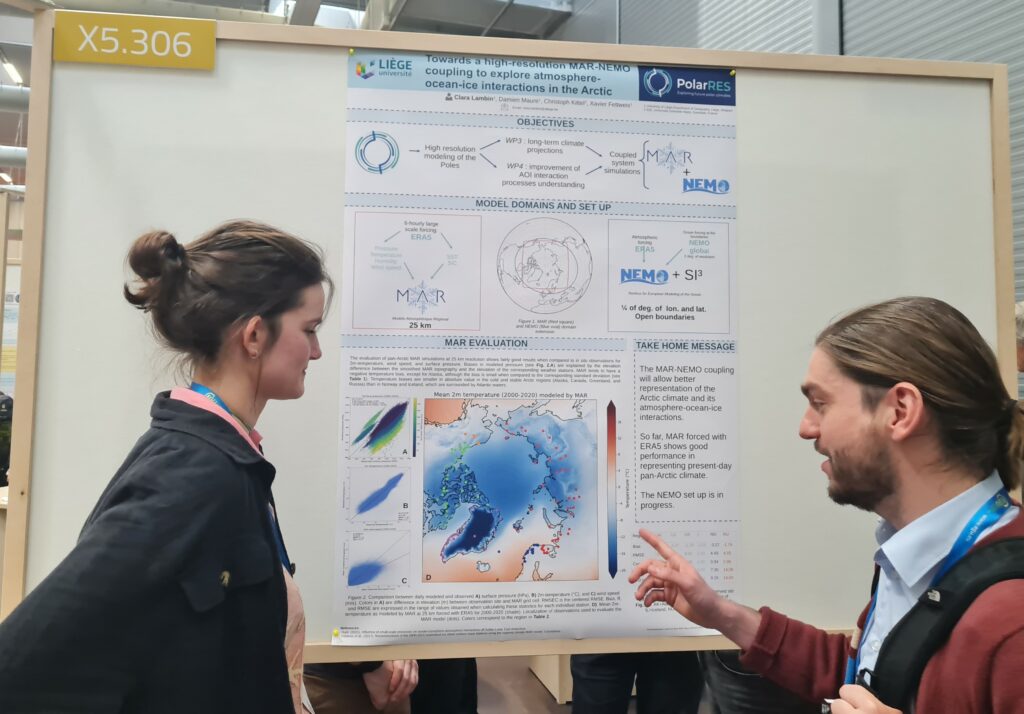 CL4.8, focused on climate storylines: the goal of the session was to showcase and discuss the latest storyline-based climate research, including approaches that use analytical methods or modelling frameworks to unravel climate change and provide actionable climate outcomes. Storylines are used to explore uncertainties in climate change and natural climate variability, develop and communicate integrated and context-relevant regional climate information, and address issues with deep uncertainty, including low-likelihood, high-impact outcomes. The session welcomed contributions from studies dealing with individual events, challenges, or other aspects of climate storylines, and studies that range across spatial and temporal scales.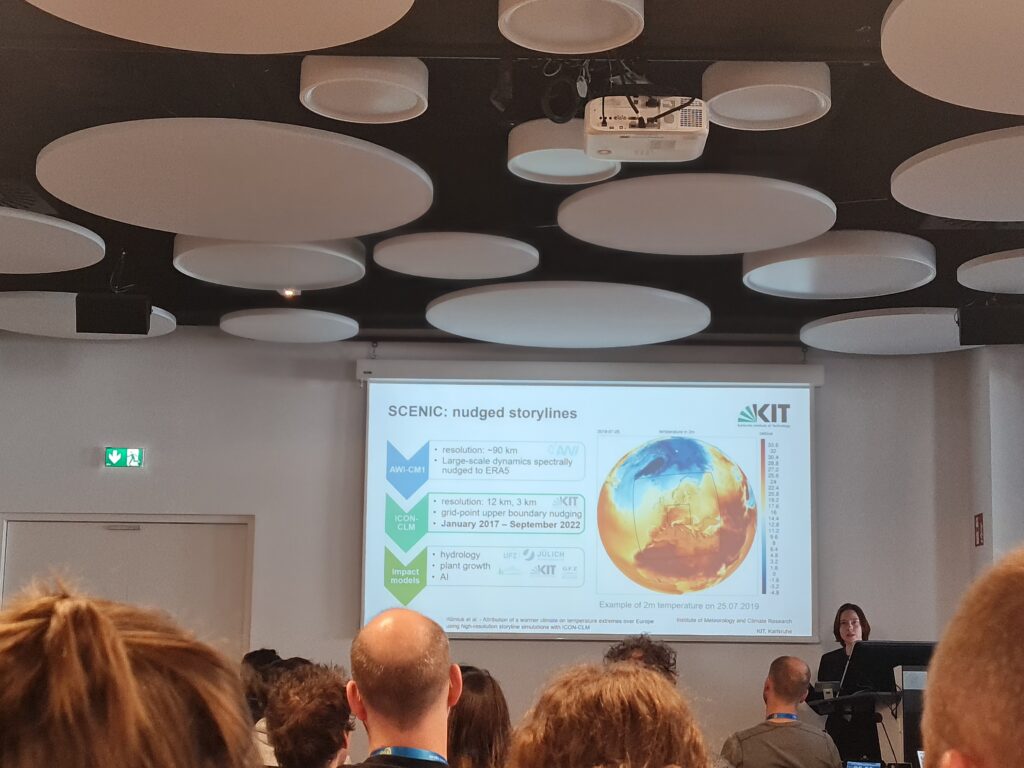 The participation of Early Career Researchers at the PolarRES sessions at EGU23 was notable, with many enthusiastic researchers sharing their resources and findings.
The Climate storylines session was particularly engaging, with a lot of interest from the audience during the short Q&A after each presentation and during the discussion that followed afterward.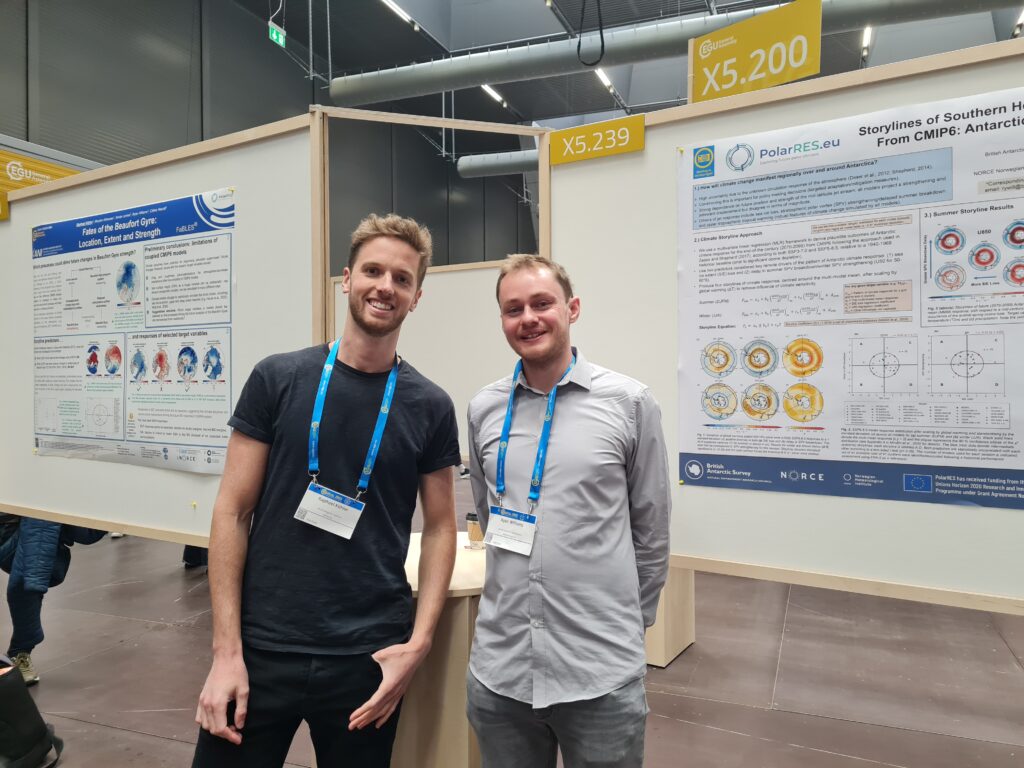 Ryan Williams (BAS) and Raphael Köhler (AWI), two of the many Early Career Researchers working on PolarRES
In the sessions, experts discussed the challenge of predicting "unseen" events and emphasized the need to build confidence in these storylines, which can have far-reaching consequences for our communities and the environment.
All of this was nicely rounded off with a gathering for researchers from PolarRES and our sister project CRiseS to discuss ongoing and explore new collaborations that can progress our work even further and faster. Our EGU23 meeting was a great chance to showcase how collaboration leads to progress in understanding and mitigating climate change!
You can read more about this collaboration in our article here.
We are excited to share our research and inspire others to join us in creating a better future for the planet. We look forward to meeting you at EGU24 for another exciting edition of the conference!