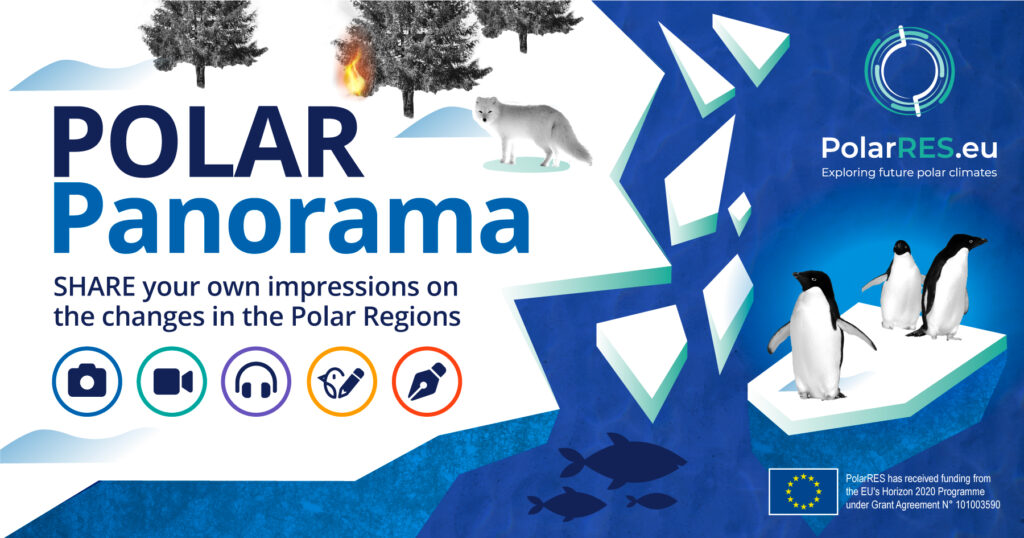 For many people, the endless expanses of the Polar Regions are faraway places they only know from documentaries. Environmental changes caused by climate change or direct human interventions are now transforming these unique landscapes and their ecosystems. To assess these changes and demonstrate the vulnerability of the Polar Regions, we aim to go beyond the researcher's view and include citizens' perspectives in the project.
We in the PolarRES project appreciate the value of diverse opinions and views, and know that it enriches scientific research. This means that we need more than just a researcher's perspective of the Polar Regions, we need the perspectives of citizens.

Priscilla Mooney – PolarRES Project Coordinator
Through a science initiative, citizens will be invited to share their thoughts and contributions in order to obtain the citizen's view of the ongoing changes in the Arctic and Antarctic. The project focuses on people who used to or are currently living, working, or travelling in the Polar Regions. Their impressions will be reviewed and shown here as part of the Polar Panorama, an interactive online gallery.
The project's goal is to gain insights into societal perceptions of the changes at work in the Arctic and Antarctic. The Polar Panorama is intended as an interactive display of people's personal impressions regarding the vulnerability and protection of the Polar Regions.
Journeys to the Arctic or Antarctic can make for a lasting impression in a variety of ways. They are, moreover, chronicles of an irrevocably changing environment. In order to share these insights and help others understand them, the citizen science project Polar Panorama will gather, bundle and distribute them.

Annette Rinke – Leader of WP 4 and Initiator of the Polar Panorama
Everyone, from locals to people who have travelled or worked in the Polar Regions, is invited to share their observations using different types of media, such as images, videos, audio recordings, drawings, or in writing. The project aims to give non-scientists a voice and a chance to share their personal experiences and insights – which is why we refer to it as a citizen science project.
In this way, we can broaden our understanding and work together to raise awareness of the vulnerability of and the need to protect our planet's unique Polar Regions (at the environmental, social and cultural level alike).
If you'd like to be part of the EU project, you're warmly invited to share impressions from your travels, your polar home or workplace, using the link below. By doing so, you can help us "give a face" to the vulnerability of the Polar Regions and raise awareness for the need to protect them.

Feel free to express your views using a variety of different formats:
in written form, e.g. poems, individual quotes from diary entries, or short stories, …
photographic images and video sequences, …
audio recordings of e.g. noises, nature sounds, singing, voice messages, …
artistic renderings such as drawings, comics, …
Please bear in mind that your contributions should be related to the topics:
a) vulnerability;
b) protection;
c) environmental / societal / cultural implications of the changes in the Polar Regions.
All contributions are collected via an upload form on the webpage www.seaiceportal.de, which is managed by the Alfred Wegener Institute for Polar and Marine Research. Please click the button below to access the upload form and submit your contributions:
If you have any questions, please have a look at the FAQ section. You can also get in touch using our contact form.